Key leadership roles available! Rare and exciting opportunity - Shanghai
Recruiter

Closes

14 Aug 2019

Sector

Specialty

Contract Type

Hours
Have you ever considered working in Asia? Private healthcare in China is booming right now and there are some fantastic opportunities available for English speaking physicians and healthcare leaders and with a 40-hour working week and favourable working schedule you can have the chance to explore all of the culture and vibrancy Asia has to offer.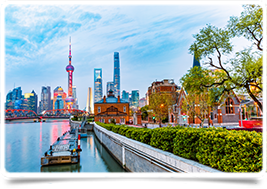 The hospital already has established institutional collaborations with renowned medical institutions all over the world, including one of the top 10 hospitals in the US and our client plans significant growth over the next few years to meet growing demand. If you are an adventurous doctor, seeking a new challenge and would like the opportunity to fast-track your career in an emerging market, please do get in touch.

Opportunities currently available in Shanghai:
Chief of Surgery (preference for Surgical oncologist however all sub-specialty backgrounds welcome to apply and other current services offered also include: Orthopedics, General Surgery, GI, Pain, Paediatric surgery and Breast surgery)
Director of Medical Oncology – ideally you will be trained in Medical Oncology or Hematology/Oncology and we are open to all sub-specialty interests, this department has a strong focus currently on breast, GI and lung)
Director of Radiation Oncology – this is for an established integrated Cancer Centre in Shanghai
What's on offer?

•    Challenge to fulfil your ambitions to advance your career 
•    The opportunity to make a meaningful impact in healthcare in China   
•    Working with doctors from all over the world
•    Research, teaching and Academic opportunities 
•    Continuous support with professional development – CME allowance and leave
•    Salary package is fantastic with a host of employee benefits 
•    Tax incentives for foreign workers, including on school fees and housing
•    Relocation support
•    Professional indemnity insurance
•    Health insurance benefits are 100% paid for by employer for doctor and family    
•    Paid annual leave
•    2 or 3-year contract with option to renew
•    Lower cost of living than Europe/UK

What are we looking for?

•    CCT in your speciality or own country equivalent and relevant leadership experience 
•    Clean medical license
•    Ability to commit to a 2 or 3-year contract as a minimum
•    Fluency in English (other languages as a bonus but not essential)

Arranging a position overseas is exciting, but we understand that it can also be a complex and time-consuming process. We're the UK's specialist in international medical recruitment and have helped many doctors relocate. We know it's important to balance career opportunities with lifestyle, so we'll talk through your plans and get to know you to make sure we find the right role in the right location.
 
More searches like this