Pre-Hospital Emergency Medical Care (Air Ambulance) – 12 month contracts
Recruiter

Salary

Very competitive – contact Allison for more information.

Closes

01 Feb 2019

Sector

Specialty

Contract Type

Hours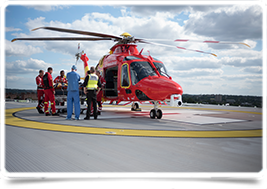 HEMS Recruitment: Pre-Hospital Emergency Medicine Care Doctor

12-month contracts available working with the Essex & Hertfordshire Air Ambulance
Mid Essex Hospital Services NHS Trust is an Acute Hospital in the East of England providing acute services to the people of the Mid Essex region and has a positive and successful approach to developing and delivering excellence in health care.
Essex & Herts Air Ambulance (EHAAT) is a Charity, that works in partnership with the NHS to provide a free life-saving Helicopter Emergency Medical Service (HEMS) for the critically ill and injured of Essex, Hertfordshire and surrounding areas. They are very patient focused and strive to provide a positive experience for those who need them.
With this post you will be a part of a first-class pre-hospital emergency medical service that aims to save lives, reduce or prevent disability, or suffering from critical illness and injury. You will join a passionate and dedicated team who all work hard to provide this life saving service.
EHAAT is currently in a significant growth and development phase which presents the excellent opportunity to grow and gain more experience and expertise in both rural and urban pre-hospital emergency care. You will be provided with exceptional training supervision and clinical exposure in a variety of locations and scenarios. This post provides operational pre-hospital experience in the case of major trauma and medical emergencies.
Each working day will be different. You will spend daylight hours in the Air Ambulance, forming part of the 4-person duty flight crew and spend evening hours on the rapid response vehicle team. You will treat a variety of critically injured and ill patients working on a rotation rota, most likely being 4 on / 4 off and attending on average of 3 call-outs per shift.
To be a successful candidate in this post you will be fully registered with the GMC with a licence to practice. You must be ST4 – 6 (or equivalent) with appropriate post-grad qualification. Knowledge of pre-hospital care systems and minimum 5 years post graduate experience are essential. 6 months experience in anaesthesia or related topics with competency in Rapid Sequence Induction of anaesthesia and 6 months experience in Emergency medicine or equivalent.
We are looking for candidates who can work both independently and within a team whilst under pressure and demonstrate patience, tact and diplomacy throughout the role. You must pass a standard bleep test up to level 5 on a 15-metre course.
We are now interviewing candidates for the positions of Pre-Hospital Care Doctors, with start dates in 2019, 2020 and 2021. Please get in touch with Allison on 0131 240 5287 or email allison@headmedical.com to discuss the posts and your suitability. Take a look at our EHAAT Employer Profile page.
*We offer a £500 bonus referral scheme to those who refer successful candidates to us*
To find out more, or to apply, contact Allison Ballard on +44 (0)131 240 5287 or email allison@headmedical.com
Similar jobs
London (East), London (Greater)
Barts Health NHS Trust

Kent & Canterbury Hospital, Canterbury
£77,913 - £105,042 per annum
East Kent Hospitals University NHS Foundation Trust

London (South), London (Greater)
£80,075 - £107,204 per annum (inc London weighting)
King's College Hospital NHS Foundation Trust
More searches like this