Consultant Psychiatrist – Palmerston North, New Zealand
Recruiter

Location

Palmerston North (Territorial authority), Manawatu-Wanganui (NZ)

Salary

Very competitive – contact Caroline for more information.

Closes

06 Dec 2018

Sector

Specialty

Career Level

Contract Type

Hours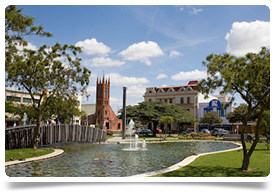 We're seeking a Consultant Psychiatrist (General Adult) to join the Mental Health & Addiction Service in Palmerston North, in the Manawatu region of the central North Island.
This role will be primarily based in an Inpatient setting, but there is also some flexibilty to work in Community too, if you wish.
The Mental Health and Addiction Service provides comprehensive community-based mental health services across the complete age range including:
Acute inpatient services (including intensive mental health care-26 beds); Comprehensive community adult services; Child, adolescent and family mental health services; Specialist Maori mental health services (Oranga Hinengaro); Specialist services for Mental Health for the elderly; Specialist community alcohol and drug services including OST services; Comprehensive 24 hour acute care services (crisis intervention service); General hospital liaison psychiatry; Early intervention services; and Intensive community rehabilitation services.
Full time, permanent position (12 months may also be considered)
Regional hospital, with a strong medical education ethos
Close links to tertiary centres and medical schools
Small university city with affordable housing and excellent schools
Just 2 hrs drive from Wellington, capital city of NZ
The General Adult Mental Health Service incorporates community mental health services in the Manawatu, Tararua and Horowhenua districts delivering general adult mental health in the community, inpatient services, eating disorders, maternal mental health, mobile assertive follow up, co-existing disorder & community rehabilitation.
The Acute Inpatient Ward at Palmerston North Hospital where this role will be primarily based, houses a 6 bed high needs secure unit and an 18 bed acute unit.
Overall, Palmerston North Hospital is a 350 bed secondary teaching hospital, serving an urban population of 80,000 and a total population catchment of approx. 168,000.
There is commitment to medical education, both from a teaching perspective but also as a peer group maintaining professional standards and being up to date on their own continuing professional development. They are recognised by the Royal Australian and New Zealand College of Psychiatrists for registrar training in inpatient, general adult community, and child and adolescent psychiatry, and this is an area they looking to develop further.
Over the last 18 months, there has been a lot of service development undertaken by a new Clinical Director, the existing Psychiatrist team with support from the Multidisciplinary Executive Leadership Team, and there is more to be done. The aim being to have a more inter-connected service that works more closely with non-governmental organisations (NGOs), local GPs, social services, education, for the benefit of patients and their families across the whole community.
This role is another key appointment for the existing team to help continue with this work.
What's on offer?
Total package circa NZ$170,000 - $280,000 pa, depending on level of experience
Includes base salary range NZ$158,141 - $230,000 pa (£82,700 - £120,000) depending on level of experience
Annual NZ$16,000 Continuing Medical Education allowance & 10 days CME leave to attend conferences
Dedicated non-clinical time and multidisciplinary team working
Plus relocation assistance
To find out more, or to apply, contact Caroline O'Hagan on +64 (0)22 521 4705 or email caroline@headmedical.com
Similar jobs
Bay of Plenty (NZ)
Bay of Plenty District Health Board

Tauranga (Locality), Bay of Plenty (NZ)
Bay of Plenty District Health Board

Kaitaia, Far North (NZ)
Northland District Health Board
More searches like this