Consultant Psychiatrist – Sydney, Australia
Recruiter

Salary

Very competitive – contact Al for more information

Closes

30 Oct 2017

Ref

AS4558

Sector

Specialty

Career Level

Contract Type

Hours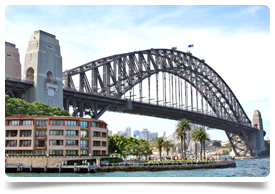 This is a rare opportunity to secure a professional post with unrivalled career development benefits in Australia's premier metropolitan city.
The rewards for families, couples and singles are unprecedented and self evident as you can enjoy the exceptional weather, beaches, schools, parks, restaurants, art galleries etc. Sydney is a world class city that can reward you with a world class lifestyle.
This particular mental health service provides care to arguably the city's most multi-cultural suburban areas, with close to 50 languages documented as spoken there. It is a busy, vibrant demographic that illustrates more then anywhere else that Australia is the most successful multi-cultural country.
The service is requiring 4 FRANZCP or UK CCT, MRCPsych trained Consultant General Adult Psychiatrists with interests in the following areas:
If you do not hold FRANZCP, to satisfy RANZCP assessment criteria you will have completed your specialist training in countries of comparable training - the UK, Ireland, NZ, South Africa, Canada or the USA and
Have at least 2 years consultant level work experience.
Be MRCPsych or FRCPsych.
Have 6 months in a formal post of Child/Youth psychiatry in your basic or advanced training.
Have 6 months in a formal post of consultantion liaison psychiatry in your basic or advanced traning.
1st year remuneration would vary depending on experience ranging AU$300,000–330,000.
For more information about these positions, Sydney, living in Australia or the very important RANZCP assessment criteria please feel free to contact me on +44 (0)131 240 5276 or al@headmedical.com
Once you secure a position in Australia, Head Medical will help and guide you through all stages of the medical and RANZCP registration/assessment processes.
Similar jobs
Townsville (LGA), North Queensland (AU)
Townsville Hospital

Australia (AU)
Cairns and Hinterland Hospital and Health Service
More searches like this