Multiple Opportunities for Consultants, GPs, Junior and Middle Grade Doctors in the Maldives
Recruiter

Salary

Very competitive – contact Kirsty for more information.

Closes

12 Oct 2017

Ref

KGMaldive

Sector

Contract Type

Hours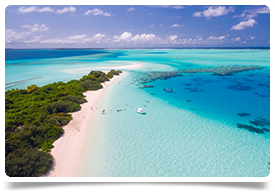 Would you like to widen your outlook by gaining experience in a different Health Care setting, surrounded by the stunning backdrop of the Maldives? We are looking for Consultants, Middle Grade and Junior Doctors, and GPs.
We are excited to be working with a new government funded hospital in the Maldives which plans to transform the healthcare landscape of this stunning archipelago.
The hospital will be a world class tertiary hospital and it's aim is to improve the health standard of people living in the Maldives. If you think you may be available to commit to a 2-year contract, please get in touch with me for further details.
Working with doctors from all over the world in a different Health Care system
Employment in a brand new hospital with modern facilities
Generous tax-free salary package (salary level will be based on experience)
Accommodation provided, close to the hospital (please note accommodation is for 1 person)
Meals provided while working in the hospital
30 days annual leave, plus circa 10 days public holidays
6-day working week, 8 hours per day, 1 hour for lunch.
Can I take my family?
The accommodation is brand new but limited, comprising of a private bedroom and bathroom with shared kitchen and living room space just a 3-minute walk from the hospital. 
There are only few schools available and secondary education is limited.
We are particularly looking for those with experience from UK, Ireland, USA, South America, Canada, Western Europe, Australia, New Zealand, South Africa, Singapore.
For Junior Doctor roles contact Kirsty Godsal on +44 (0)131 240 5259 or email kirsty@headmedical.com
For GP roles contact Martin Merrick on +44 (0)131 240 5285 or email martin@headmedical.com
For Consultant (all specialties) roles contact Amanda Gregory on +44 (0)131 240 5281 or email amanda@headmedical.com
More searches like this