Junior & Middle Grade Doctors - Maldives
Recruiter

Salary

Very competitive, contact Kirsty for further details.

Closes

18 Jul 2017

Ref

KG4121

Sector

Contract Type

Hours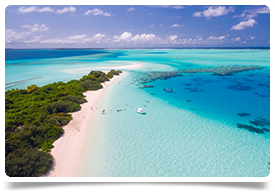 Imagine finishing your shift at the hospital and strolling across to the beach for a swim & snorkel in the tropical waters…..
Could you benefit from taking 2 years out, to work in the idyllic destination of the Maldives? Experience a different healthcare system before returning to complete your training.
The Maldives is well known as a dream destination and we are excited to be working in partnership with a private 188 bed hospital that is planning to transform the healthcare landscape of this stunning archipelago.
Preference is given to candidates who have at least 4 years post-grad experience, however PGY3 doctors will also be considered. There are opportunities across most specialties.
For medical registration purposes, your primary medical degree must come from one of the following comparable countries.
Australia                Finland                  Sweden                   
Austria                   France                  Switzerland
Belgium                 Norway                 The Netherlands
Canada                 Poland                   United Kingdom
Denmark               Spain                     USA          
Other Western European countries also considered
IELTS EXAM WITH A MINIMUM PASS OF 7 IS REQUIRED IF YOUR PRIMARY MEDICAL DEGREE WAS NOT COMPLETED IN ENGLISH.
Based in a brand new hospital with state of the art facilities, you will be working with doctors from all over the world. The hospital is targeted to open in October 2017 as a world class tertiary hospital with the aim to improve the standard of healthcare provided to the people of the Maldives.
You will receive a generous TAX FREE salary package, accommodation close to the hospital and meals provided while working in the hospital. The contracts are for 2 years with the option to stay longer.
There are positions available for junior and middle grade doctor across most specialties.
The hospital follows a 6 day working week pattern with Friday as your weekly day off.  The working day is 8 hours per day with 1 hour for lunch.  Translation services are on hand to assist with non-English speaking patients.
PLEASE NOTE THAT APPLICANTS MUST SPEAK AND WRITE ENGLISH AT A FLUENT LEVEL AND HAVE A CLEAN MEDICAL LICENSE.
Similar jobs
Malaysia (MY)
Sunway Medical

Malaysia (MY)
Sunway Medical
More searches like this